Click here for Writing & Publishing Consulting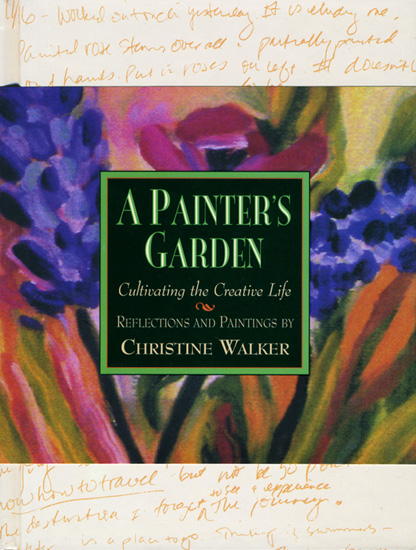 My personal journal sketchbooks and paintings of the garden inspired this book. It was a joy to write and I am continually rewarded by hearing from readers.
"In A Painter's Garden, the parallels between lessons in the garden, the studio, and life ring true. Christine Walker's writing is intelligent, evocative, elegant, and articulate. She addresses universal truths about the creative process in an accessible and fresh way. And she renders very complex emotions in beautifully simple terms...weaving her experiences of motherhood into an examination of her working methods in the studio... 'feeling a cadence as measured as the breathing of a sleeping child.'"

Eleanor Coppola, filmmaker of Hearts of Darkness



A Painter's Garden: Cultivating the Creative Life. Originally published by Warner Books. Over 60 full color paintings, 144 pages ISBN 0-9700217-0-4. Now distributed by Compozarts.
---
Dennis Hysom and I wrote the first Wooleycat songs for our nieces, nephews and friends' children. Now, Wooleycat has spawned several albums, a video, another generation of fans, and this book, which I illustrated. On the enclosed CD, Dennis sings songs based on well-loved nursery rhymes. In our versions, Humpty pulls himself together again, Ladybug the firefighter saves the children and the Three Blind Mice safari in Africa, where they learn that things aren't always what they seem. Published by Tortuga Press.
Purchase Books & CDs at Wooleycat.com.

---
Writing & Publishing Consulting
• Contact Christine for individual consultation on your writing and publishing projects.
• Consulting fees: $ 90/unit of time
• Pay as you go or on a negotiated basis per project.
Lectures, Seminars & Consulting


I give lectures, lead seminars and workshops, and consult with writers and artists on creative process and craft. Please contact me for more information about content and presentation formats.


University Seminars
"Christine is a natural teacher with such a clear and gentle manner."
Gillian Parker, PhD – Philosophy Professor, Sonoma State University, Rohnert Park CA

Adult Continuing Education

"Christine is extremely talented and is a true educator."
Denise Rosendahl – Director, Life Learning Center, Santa Rosa, CA


Writing Classes for Women in Jail


"Christine really knows how to bring out the creative soul in each student. She has the magic touch to get the women motivated in a completely different way than any other class they would take."
Karen Whissen – Director, Sonoma County Library Literacy Program, CA


Workshops


"Your curriculum and presentation were great and I feel inspired."


"One gem I pulled from your class on Saturday is to believe in your work. That you care and are passionate about what you do and wish to share is evident."


"I loved your workshop. I walked away from it, for the first time feeling like a writer."


Workshop participants, Sebastopol Center for the Arts, Sebastopol, CA